Dustin Lueker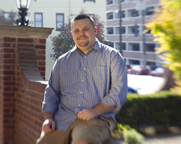 PhD Student by Jason Kazee
photos by Mark Cornelison

Hailing originally from Pinckneyville, Illinois, University of Kentucky statistics Ph.D. candidate Dustin Lueker is a born again Kentuckian. He moved to Mount Sterling with his family as a teenager where he attended Montgomery County High School. Lueker enrolled in Morehead State University where he completed his undergraduate studies in mathematics and then came to UK to pursue a doctorate in statistics.

"I think most people who know me were surprised to learn I chose statistics over math, but I really liked the environment and atmosphere of the stats department. It reminded me a lot of the Math Department at Morehead." Lueker finds the close-knit culture of the smaller Statistics Department at UK to offer a degree of personal attention students in other programs miss out on. "You actually know all of the professors. In return, they are concerned and take an active interest in the students."

His professional goal is to eventually teach at the university level. He's off to a great start by recently being named as an Algebra Cubed Fellow for the 2008-2009 school year. Thanks to a National Science Foundation grant won by UK's Mathematics department, Lueker taught high school for one year in Powell County, Kentucky.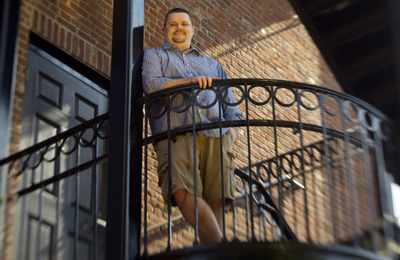 While teaching high school was a rewarding experience for he and the other Fellows which included students from the departments of mathematics, statistics, and biology students, it reaffirmed his commitment and desire to teach at the university level. "There is a certain amount of responsibility on the student at the collegiate level that is lacking in other levels of teaching. I know that when a student visits my office, they are actively engaged in learning the material."

And it's that active engagement Lueker enjoys most about teaching. "I really enjoy helping people learn (the material). Being around the undergraduates is enjoyable and helping students achieve something they may not have previously thought possible," Lueker believes is a pretty nice perk to the job. "It's really nice to help them overcome that."

Another facet to his development in becoming a teacher is to begin a new role within the Statistics Department referred to as a "Super TA". Both Lueker and Angela Schörgendorfer (you may remember her as the previous subject of Graduate Student Spotlight) will be serving as mentors to the current teaching assistant staff. As such, they will be present to help the new assistants with unexpected developments in teaching their class or assist them with administering their first exam.

"It's not really a supervisor's role but more of we're going to be there to tell them what they should be doing. A lot of the time, as a teaching assistant you're just kind of thrown into it. The idea of the Super TA program is to help the assistants along, talk about what they can expect to encounter, how they should handle certain situations." The Super TA program marks a change in Lueker's normal academic schedule since he has spent the majority of his time at UK teaching. "It will be interesting not having to actually teach, but I'm sure I'll get a lot of the same experiences...it may not be firsthand any more."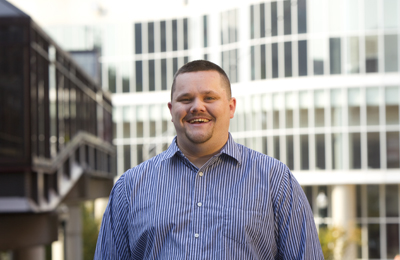 Lueker hopes the program will be especially beneficial for the department's international students who come to UK and are about to begin serving as first-time teaching assistants. "It can help them realize the responsibilities of a teaching assistant in the department and prepare them for what to expect when working with undergraduates," he said. Especially as international student backgrounds and educational experiences can differ greatly from the environments UK students experience in the course of their studies.

Along with the inaugural "Super TA" roles, Lueker and Schörgendorfer are also be partnering with William S. Rayens to help develop a new General Education Statistics course, which began in Fall 2010.

When not teaching, Lueker is a passionate sports fan devotedly following the Wildcats in football and basketball, and, his beloved St. Louis Cardinals and Rams throughout their respective seasons.

Lueker is also recently married. His wife, Melissa, recently received a Masters of Public Administration from UK's Martin School of Public Policy and Administration. She currently works as a Financial Analyst for the Legislative Research Commission in Frankfort.