by Lea Mann and Whitney Hale
Fans of folk music and the dulcimer should check out the next two concerts in the "Appalachia in the Bluegrass" concert series. The first concert will feature Si Kahn, a chart-topping folk music player, at noon Friday, Oct. 26, in the Niles Gallery, located in the University of Kentucky Lucille C. Little Fine Arts Library and Learning Center. The following week, Don Pedi, an accomplished dulcimer player, will perform at noon Friday, Nov. 2. Both concerts are free and open to the public.
Folk Musician and Activist to Play at Niles Gallery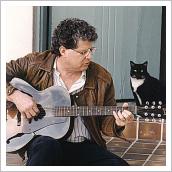 Si Kahn has performed at concerts and festivals all over the world, including events in Portugal, the Netherlands, Germany and Ireland, just to name a few. His songs of family, community, work and freedom have been recorded by more than 100 artists and translated into half a dozen languages. Kahn's musical body of work includes 15 albums of original songs for adults and children, plus a collection of traditional labor, civil rights and women's songs recorded with Pete Seeger and Jane Sapp.
Kahn's CD "Courage" was named the No. 1 folk CD for 2010 by the Folk Alliance and included No. 1, 3 and 10 songs on the Folk DJ chart for the year ("Peace Will Rise," "Otis Is Flying," "Playing the Old Songs").
In addition to his musical career, Kahn has worked for more than 45 years as a civil rights, labor and community organizer, and musician. In 1980, he founded Grassroots Leadership, a southern-based national organization, and served as executive director for 20 years until 2010, when he became executive director emeritus. For the past 12 years, Grassroots Leadership has worked to oppose privatization and to defend the public sector.
Currently, Kahn is doing a residency with the UK Appalachian Center. To see a preview of Kahn performing "Gone, Gonna Rise Again," watch him on YouTube at http://youtu.be/UkEld3ySq0I.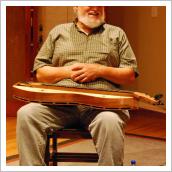 Don Pedi to Fill Niles Gallery with Dulcimer Sounds
Don Pedi was born into a musical family in Chelsea, Mass. His grandfather played guitar, mandolin and banjo, and his uncle made his living singing and playing music. Pedi himself got involved with the Boston area folk music scene in the early 1960s; he was then introduced to an instrument called a dulcimer. Pedi was at a live performance by Mimi and Richard Farina at the old Unicorn Coffee House in Boston when he fell in love with the sound of the dulcimer.
Pedi has amazed and delighted audiences with his "fiddle-pick" style of playing the dulcimer. Drawing on decades of association with many of the best musicians in the southern mountains, as well as his deep commitment to preserving the old music, he carries on the tradition in an exciting and innovative fashion.
The musician relocated to Ashville, N.C., to play with fellow musicians, Tad Wright and Keith Zimmerman. Since settling in Western North Carolina, Pedi has been recognized as the man who could "really play" a dulcimer. He is a pioneer in that his music has broken new ground and cleared a path for others. In Pedi's hands, the dulcimer has been accepted as an instrument well-suited to playing traditional Southern Dance music. This was at a time when most old time musicians thought a dulcimer should be hung on a wall with a pretty ribbon.
Pedi won first place in the first contest he ever entered at the 1974 Fiddler's Grove Festival, in Union Grove, N.C. Before retiring from festival competitions in 1982, he had won more than 30 first place trophies and awards.
Pedi has performed with a great many musical legends. He currently performs solo and as a duo with fiddler Bruce Greene. His most recent recording, made with Greene, is "Stranger on a Mule."
To see a clip of Pedi's performance at the 2008 Cumberland Gap Dulcimer Gathering, watch him on YouTube at http://youtu.be/g2f4AnJNclo.
Presented by the UK John Jacob Niles Center for American Music, the "Appalachia in the Bluegrass" concert series celebrates the old time roots of American folk music by featuring a diverse range of traditional musical expression. This year's concert series showcases 13 different performers, duo and groups from the Kentucky area ranging from artists straight off their front porch to those who have earned international acclaim. The Niles Center is a collaborative research and performance center of the UK College of Fine Arts, UK School of Music and UK Libraries.
For more information on either the Si Kahn or Don Pedi concert or on the "Appalachia in the Bluegrass" concert series, visit online at http://finearts.uky.edu/music/niles.