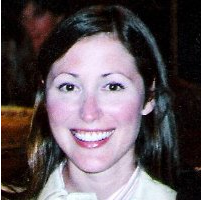 Hannah Arthur Bell graduated in 1999 from the College of Arts & Sciences with a major in English and a minor in Russian Studies.  During her sophomore year, Hannah traveled with her father to St. Petersburg, Russia, to see one of his plays performed at the University of St. Petersburg.
Hannah had no prior knowledge of Russia, but immediately fell in love with the art and culture of St. Petersburg; so much so that she talked her mother and grandmother into returning with her on a group tour that next spring.  
Hannah quickly became determined to focus the last 4 semesters of her college curriculum to "all things Russia".  It was during her 2nd language course, headed by Professor Jeanmarie Rouhier-Willoughby, that she decided to spend the summer in Vladimir to attend the KORA exchange program at the State University.  Two months' immersion with side trips to Suzdal, Moscow, and St. Petersburg set the stage for the next phase of Hannah's life.
After graduation, Hannah spent a month touring the west coast until she decided to make her way back to California.  Hannah had planned to apply to Middlebury College's language program for her graduate degree, but had heard about Monterey Institute of International Studies through a brochure that she saw in the Russian Department at U.K..  Hannah realized that if she attended the Institute she could not only use both her English and Russian degrees, but also pursue an interest in Women's Studies. 
After the first year, Hannah was offered an internship in the Network Women's Program at the George Soros Foundation's Open Society Institute in New York for the summer of 2001.  Her internship was originally centered around interpreting, rewriting, and polishing roughly-translated documents; however, the Director of her program was going to be in Bosnia during the New York United Nations General Assembly Special Session on HIV/AIDS, and asked Hannah to attend the event in her stead.  
Hannah had the unique opportunity to not only sit in on the General Assembly Sessions that week, but was also asked to take part in the precursor events held by the United Way and UNIFEM.  Completely awed by the testimonials by both doctors and HIV+ speakers, Hannah became passionate about helping to disseminate information about HIV/AIDS.  She ended her stint in New York by writing a policy recommendation for the Network Women's Program that presented several options that would potentially curb the proliferation of HIV/AIDS in Eastern Europe and the former Soviet Union.  Hannah was later awarded the status of HonorableKentucky Colonel by U.S. Congressman Jim Stewart for her service and contributions to the global community.
Hannah focused her last two semesters researching HIV and healthcare, and was even able to travel to Cuba with her Latin America class to study their HIV/AIDS healthcare system.  She graduated with a Master's degree in International Policy Studies, with a focus on Gender & Development and a Certificate in Healthcare and Human Rights.
After graduation, Hannah began writing grants on a pro bono basis for the Monterey Herald and the AIDS Legal Referral Panel in San Francisco.  She soon found herself working in the Contra Costa Times Promotion and Marketing Department, and was then moved to a permanent position in the Print Advertising Department.   
Hannah continued to work with the AIDS Legal Referral Panel, but when the National Ryan White Foundation Grant was cut by 60%, she found it increasingly difficult to pursue a career in grant writing.  Hannah slowly gravitated toward online advertising, and started working at CNET (now CBS Interactive).  She then decided to enter agency life at McCann Worldgroup, where she worked on online Microsoft campaigns for almost 3 years.  Hannah currently works as the Ad Operations Lead at Goodby, Silverstein & Partners, who are known for developing the tagline "Got Milk?".
In 2008, Hannah married Hudson Bell, a musician who attended the same high school in Lexington, Kentucky.  Hudson was a friend of a friend, and the two were introduced via email and started dating after their first meeting.  They currently live in Nob Hill with their one year-old son, Ford.