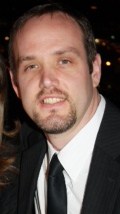 Joseph Tipton is currently a predoctoral fellow in the Department of Classics at the University of Pittsburgh. In addition to teaching courses in Greek history, ancient mythology and classical literature, he is writing his dissertation which deals with the philosophical commitments underlying the Athenian democracy in the Periclean period as evidenced in philosophical, historical and dramatic texts.
Joseph was a graduate student in the Classics program at the University of Kentucky from 2001 to 2003. During these two years he pursued both Greek and Latin studies in the department. He appreciates most the work he did in the Institutum Studiis Latinis Provehendis. In the Institutum he gained not just a command of the language, but also an insight into the nuances of the language that has proved invaluable in subsequent work. He has also gained an understanding of the full scope and history of the Latin literature and competence in reading texts as varied as Catullus and Kepler.
Convinced that the active use of a language, be it living or "dead," accelerates and enhances the learning process, he applied the philosophy of the Institutum to his Greek studies as well. For his Master's thesis he submitted a study of the oratorical style of Demosthenes which included an active component: a speech composed in ancient Greek, exemplifying the results arrived at in the analysis of the orator's Philippics and Olynthiacs.
Although his PhD studies take up most of his time, Joseph still continues to pursue his interest his spoken Latin and Greek. He regularly attends the Conventicula Aestiva held annually in Lexington and is a member of several circuli. Thus, the studies he pursued in the Classics Department at the University of Kentucky had an enduring influence in his professional development.