By Sarah Geegan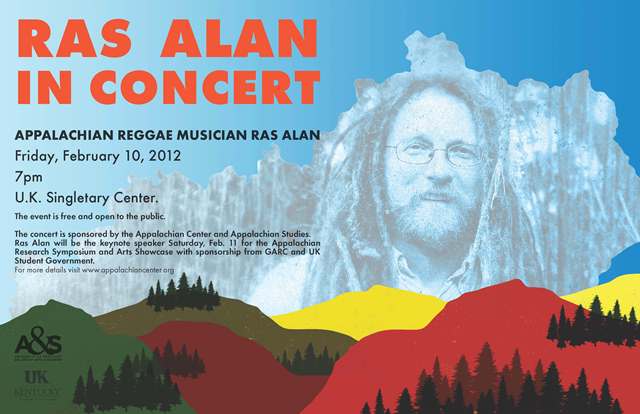 What is Reggabilly?  "It's music and stories from Southern Appalachia inspired by the heartbeat of Rastafari," says Red Pepper recording artist Ras Alan about his blend of reggae music and mountain traditions.
Ras Alan, a Grammy Award nominee, has released four albums, performed at the National Mall in Washington D.C., and has three albums archived in the permanent collections of the Smithsonian Institute. His next stop — the University of Kentucky.
The University of Kentucky Appalachian Center, Appalachian Studies Program, UK Student Government Association and the Graduate Appalachian Research Community are co-sponsoring Ras Alan's tour through the Bluegrass from Feb. 8-11.
His visit will begin with interactive programming at two elementary schools in Wolfe and Lawrence Counties, and culminate at UK with a free public concert from 7 to 9 p.m. Friday, Feb. 10, at the UK Singletary Center for the Arts Recital Hall and the keynote address at the 2012 Appalachian Research Symposium and Arts Showcase on Saturday, Feb. 11 at the William T. Young Library on campus. 
"We invited Ras Alan because his work challenges and invites us to think about Appalachia in a global context" said Ann Kingsolver, director of the UK Appalachian Center.
Alan's blend of traditional mountain music, original lyrics and reggae beat, already a unique combination, are influenced by multiple factors: bluegrass, old time, southern gospel, jazz, African drumming and a respectful portion of Rastafari spirituality.
Alan established the term, "Reggabilly" in 1991, positioning his work as rooted in Southern Appalachian tradition, but consciously moving forward. His songs are true stories inspired locally and applicable worldwide.
"Ras Alan's learning journey as a musician has taken him from Tennessee to Jamaica and Nigeria and back again," said Kingsolver.  "He loves to share that journey with children who can imagine one world through his musical program 'One Heart Beat: Appalachia to Zimbabwe.'"
On Feb. 8-9, the UK Appalachian Center is sponsoring Ras Alan's performances in two elementary schools. The program aims to promote and increase self-esteem through artistic, creative self-expression. The elementary students at Red River Valley Elementary and Louisa East Elementary will get hands-on exposure to various percussion instruments from around the world, including those from Thailand, Mali, Jamaica, South Africa, Zimbabwe and Southern Appalachia. His overall message will encourage the children to experience the importance and validity of their place in the world, while also allowing them to experience diversity.
On Feb. 10, Ras Alan will perform at the UK Singletary Center in the Recital Hall from 7 p.m.-9 p.m. This concert is free and open to the public.
On Feb. 11, Ras Alan will give the keynote address at the Annual Appalachian Research Symposium and Arts Showcase, a statewide student venue for sharing Appalachian-based research and creative work, hosted by students at UK. It intends to foster a supportive community in which students from all disciplines can present their work; learn from each other's experiences and discoveries; and discuss obstacles, successes and potential opportunities for collaboration. The event is also free and open to the public. 
For more information visit http://www.appalachiancenter.org/